Keynote speakers
PhD Srđan Krčo
CEO and co-founder H2020 TagItSmart project coordinator, DunavNET, Serbia
Dr. Srđan Krčo holds a PhD degree from the University of Novi Sad for the work in the application of mobile communications in health monitoring. He founded DunavNET in 2006 and is currently managing and driving research activities in the company, particularly focusing on smart city and smart agriculture domains. Previously, since 2000, Srdjan was with Ericsson where he held a number of positions (senior research engineer, system manager, project manager) and has worked in and managed a number of product development and research projects, focusing on M2M, Internet of Things and their application in various domains including the smart cities. He has participated in a number of FP7 and H2020 projects (SocIoTal, CLIPS, IoT Lab, SENSEI, SmartSantander, etc.) and is currently coordinating TagItSmart! H2020 project. Srdjan is active in the International IoT Forum and Alliance for IoT Innovation (AIOTI), contributing to working groups on smart cities and smart agriculture. He has published more than 50 papers in international journals and at international conferences as well as more than 10 patents. In 2007 he received the Innovation engineer of the Year Award in Ireland from the Institute of Engineers of Ireland. In 2006, Srdjan initiated summer school on IoT and its applications which is since held annually with participation of over 500 young researchers.
MSc Dragan Pleskonjić
Senior Director Application Information Security at IGT, Great Britain
Dragan Pleskonjić is high-tech entrepreneur with a strong background in information security, computer systems and networks security as well as profound knowledge of wireless networks and systems, software development methodologies and architectures. He received M. Sc. in Computer Science in the area of Security and Cryptography from University of Zagreb, Faculty of Electrical Engineering and Computing. He currently works as Senior Director Application Information Security, on global organization level at international company IGT (previously GTECH). Dragan initiated and has held leading positions in a number of industry projects, as well as in research and development projects. He is inventor with set of patent applications including applications with USPTO, CIPO and EPO patent offices. Dragan is often invited to be conference speaker. Cited and quoted by scientific and professional journals and magazines. Senior member of ACM, member of IEEE, ISACA and other professional organizations. Dragan is ISO 27001 Certified ISMS Lead Auditor and PCI ISA (Payment Card Industry Internal Security Assessor). He has published ten books, university publications and over fifty papers at technical and scientific conferences, seminars and publications internationally, including IEEE and ACM events and publications. He works as a reviewer for scientific and technical journals, conferences and papers including journals on Thomson Reuters SCI list. His current research and development focus is Intelligent Predictive Security (INPRESEC) – exploring the paradigm shift in information security and privacy with artificial intelligence and machine learning.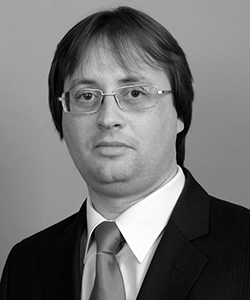 PhD Zlatogor Minchev
Director Joint Training Simulation and Analysis Center, Institute of Information and Communication Technologies, Bulgarian Academy of Sciences, Republic of Bulgaria

Zlatogor Minchev is an 'Associate Professor' on 'Automation and Control' at the Institute of Information and Communication Technologies (IICT), Bulgarian Academy of Sciences (BAS), IT for Security Department Head (senior member since 2010); In 2007 he was appointed as a Director of Joint Training Simulation & Analysis Center, IICT-BAS where he is organizing and conducting research in the fields of: cybersecurity, crisis & emergency management. Special accent is given on: future threats analysis, modelling and forecasting; human factor response psycho-physiological monitoring and stimulation; Distributed Computer Assisted eXercises in mixed cyber-physical realities.

Educational background: Dr. Minchev holds a PhD on 'Cybernetics & Robotics' (2006) from Center for Biomedical Engineering 'Prof. Ivan Daskalov' and B.Sc. degree on 'Informatics & Mathematics' from 'St. St. Cyril and Methodius', University of Veliko Tarnovo (2001); numerous specializations from national & international courses in different aspects of the security area;

Other engagements: part-time 'Associate Professor' at the Institute of Mathematics and Informatics – BAS, Operations Research, Probability & Statistics department (2010); external collaborator of the department 'Cognitive Psychophysiology', research team 'Sensorimotor & Cognitive Processes', Institute of Neurobiology, BAS (since 2003);

Research achievements: Author and co-author of more than 90 scientific publications, including: twenty one books and two patents. During his fifteen years scientific career he took part in more than 40 scientific projects with national & international funding on expert and managing positions; Editorial board member of: IT for Sec Reports, Journal of Defense Management, Journal of Peace and Security Studies. Professional Memberships at: Union of the Bulgarian Mathematicians (2002), Union of Automation and Informatics 'John Vincent Atanassov' (2005), Bulgarian Society of Physiological Sciences (2011), AFCEA, Varna Chapter (2016), EU SysSec Network of Excellence in System Security (2010), European Consortium for Mathematics in Industry ESGI initiatives (2013), Bulgarian Society of Industrial & Applied Mathematics (2016).

Teaching activities: visiting professor on cybersecurity for: Plovdiv University 'Paisii Hilendarski'; multiaspect security problems: University of National & World Economy – Sofia, G. C. Marshall European Center for Security Studies.

Selected awards and distinguishes: The President and the Prime Minister of the Republic of Bulgaria (2007), Ministry of Defence (2006, 2007), Ministry of Health (2008), NATO Research and Technology Organization (2007), Bulgarian Association of Information Technologies (2008), NATO C3 Agency (2010), University of National and World Economy (2010); AOR 'Atlantic' (2013, 2014); NATO CoE Defense Against Terrorism (2014). Recognized by: NATO as Opinion Leader on Security Problems (2010), Opinion Leader on Cyber space security (2014), Marquis Who's Who Biographer as Research Scientist/Educator (30th Pearl Anniversary Seal, 2012); National representative at International Federation for Information Processing, UNESCO, Technical Committee on Entertainment Computing – TC14 (since 2012).

Public activities: work and support of young talents in the fields of mathematics and informatics (since 2005); well-known international security expert with numerous media interviews; member of the managing boards of: Association of Communication & Information Specialists (Deputy Chairman, since 2016); honourable member of e-Sigurnost Association (2016); Association of the Officers in the Reserve Atlantic (IT & Cybersecurity Director, 2011-2013), George C. Marshall Association – Bulgaria (IT Director, 2008-2011).